Fencing Contractors in Sutherland Shire
BestLine Fencing is your first option for Sutherland Shire fencing. BestLine Fencing is one of The Shire 's biggest and oldest fencing companies and we're happy to be home to the best fencing builders around. BestLine Fencing was created in 1987 by Steven Grant Streater to provide premium fencing solutions such as timber fencing, picket fencing, industrial and hoarding fencing, tubular fencing, chainmesh fencing and all types of residential fencing. Our reputation is built upon over 45 years of professional and dedicated support.
BestLine Fencing has been set up to deal with the rising demands of the Sutherland Shire by providing fencing contractors that are the best at installing picket fencing, timber fencing and aluminium fencing among other styles. You can reach out to us with queries around timber fencing.
We're known for the reliability of our support and the quality of our products and are pleased to continue building upon the strong foundation of our reputation in every area of our work.
Selecting a Fence Builder
When choosing a specialist to install your fence, there are a few things to ask for. Firstly, ask to see previous jobs that they have completed or for references. Ask if they will provide a warranty for the fence. If you are ordering your fence from a fencing company, ask if they provide a delivery and installation service. If they don't, do they have contractors that will do this? Finally, get several quotes before selecting your specialist. Remember that the cheapest quote isn't necessarily the best – you need to feel comfortable with your specialist, and have confidence in their ability.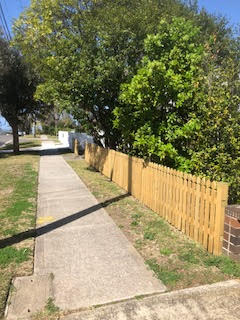 We provide our services to a wide range of industries, including the residential, commercial, and government sectors. Our customer base covers all areas of Sutherland Shire.
Our services include:
• Timber Fencing
• Colorbond® Fencing
• Feature Fencing
We also accept custom projects. Contact us to get a free measure and quote.
How to Choose a Fencing Company in The Sutherland Shire
Fences are necessary for security, privacy, keeping pets in, helping to eliminate noise or wind, and defining boundaries but the type of fence you get will depend on your needs. Security is a major issue for many families, and a fence and/or gate is the first and most visible step towards deterring intruders.
Consider if the fence will block your views, what interaction you would like with your neighbors, what your privacy issues are (by way of instance, if your neighbor's kitchen looks into your toilet ), and the sort of pet you have.
Make certain that the fence is visually attractive and that it fits in with the style of your dwelling. By way of instance, modern-style homes look great with slick steel or aluminum fences. More traditional houses with cottage-style gardens are perfectly complemented with the wooden picket fence.
If noise is an issue in your house, you'll want a material that's capable of blocking it all out. Heavier materials are best for this purpose, so think along the lines of brick, cement or even closely combined wood. To keep pets ensure that the fence is taller and has no gaps in it.
Finally, bear in mind that masonry fences over one metre high and all fences over two metres high will normally require approval from The Sutherland Shire Council. Fences adjacent to street intersections will also need approval. If in doubt, always consult your council initially to save any possible hassle down the track.
Why Choose BestLine Fencing
We aim to provide the results you desire because we know it's your vision and your dwelling. We make it our mission to ensure your complete satisfaction by providing an exceptional customer service experience we know you will value and appreciate.
Quality Australian made materials
30 years experience
FREE QUOTES
Highly skilled professionals
Supporting Australian business
Quality support assurance
Fully licensed and Insured
Our Values:
We aim to assist you get the results you want by providing quality fencing supplies and services through a commitment to our company values. Our aim is to ensure we supply you with all the tools you need so as to assist you recognize the installation process and ensure we comply with the present regulations in your Sutherland Shire community area.
Committed to customer excellence
Transparent processes and costing
Honesty and integrity
Commitment to the highest standards
Entire project accountability
Getting To BestLine Fencing
We are located at 50 Acacia Rd, Kirrawee NSW 2232, which is easily accessible via car and public transport. We also have car parking on-site, however, this is limited and subject to availability.
What Makes Sutherland Shire, NSW Special:
The Sutherland Shire is bordered by 19 beaches along the east coast, In the cliffs of Cape Solander from the north into the waves of Burning Palms from the south. Combine this with 200 kilometres of sparkling Waterways and bays, there is tons of choice when it comes to water activities.
3 Questions Every Sutherland Shire Resident Should Ask a Fencing Ccontractor
How long you've been in business?
A comprehensive business history of excellent fencing work is a powerful indicator of a trustworthy firm employing experienced tradespersons. Years of service excellence will obviously attract the most competent employees who understand every facet of the company and take pride in a job well done. Unfortunately the construction business has many rogue operators, who come and go, but quality operators stand the test of time.
Can you show me examples of your work?
Seeing completed work is frequently the best way to ascertain what your job will look like when done. This will let you observe the quality of the manufacturing and installation. A respectable fencing firm will be more than delighted to offer you with addresses of premises where you can see examples of their work. An option is to visit the corporation's workshop and determine where their fencing and gates are created. This will enable you to both observe the standard of the workmanship firsthand and confirm that the fencing and gates were created in Australia.
Is the business fully insured?
All respectable contractors will be fully insured. If a fencing company doesn't have insurance it is an immediate red flag. Don't be afraid to ask any contractor to determine their certificate of currency for their general liability and indemnity insurance in addition to their workers' reimbursement coverage.